MM4937RM 1100 Ltr Lid-in-Lid
With automatic prop opening feature & round flap.
L: 932mm x W:1236mm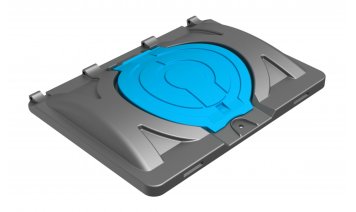 To fit Taylor, Sellers & Spider 1100 litre containers.
With a round aperture (560mm Ø) to accept 100 litre bin liner.
Optional extra:
We recommend using a mechanical prop for flap to facilitate hands-free loading.
Flap can be propped open (recommended) for hands-free loading of bin.
Watertight when closed. Flap is self-closing under its own weight.
User-friendly. The flap is light and easy to lift.
Flap can be locked independently for additional security.
Equipped to accept patented CCE lock for security.
Flap can be personalised with a custom name plate.
High dome for use in extreme climates.
Base lid can be produced in recycled material.
Black base lid with coloured flap reduces costs.
Stackable for cost-effective freight.
Integral recessed front handles for ease of opening.
Also available:
standard lid (MA4937DM),
lid-in-lid with smaller rectangular flap (MA4937DM-REC).
Technical drawing: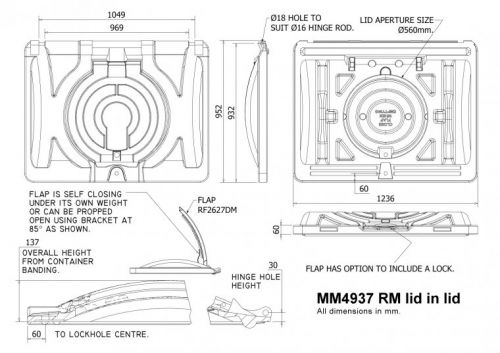 If we don't have the exact product you want, please call
+44 (0)1246 853 696
to discuss. We're here to help!