GA3557 Front End Loader and Skip lid
Top hinged FEL lid normally used in pairs. Also used on symmetrical skips.
L: 1444mm x W:901mm
Nestable design for cost-effective freight.
Can be personalised with a custom name plate.
Moulded-in handle facilitates opening and closing.
3 hinge lugs for optimal strength.
5 ribs and 'kiss-off' areas for maximum strength.
Sloped back hinge for extra strength.
Prop sockets are located at the rear of the lid. This is where the lid should be propped open.
Also available in a ca. 26cm shorter version (AB3547 lid).
This lid pair can be replaced with overlapping lid pair FO3757MM & SM.
Technical drawing: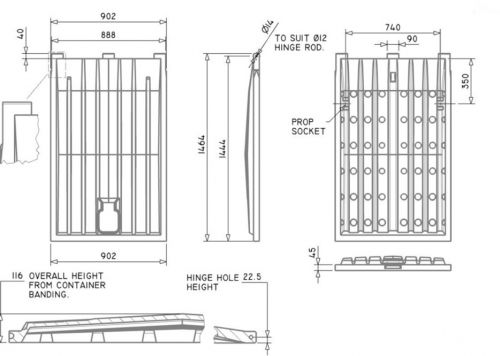 If we don't have the exact product you want, please call
+44 (0)1246 853 696
to discuss. We're here to help!